Our strengths as a school and experiment station are made possible through the dedication and impactful work of our faculty and staff. The Excellence Award program is our opportunity to acknowledge individuals and teams who have gone above and beyond an already high bar of expectation. These signature awards meet carefully-considered criteria, including creativity, original work and ideas, innovation, effectiveness, integrity, leadership, impact, community engagement, and excellence.
This year, due to the COVID-19 pandemic we are honoring the recipients of the 27th Excellence Awards for the School of Environmental and Biological Sciences (SEBS) and the New Jersey Agricultural Experiment Station (NJAES) on this page. We thank you for your work and for all you contribute to our community.
Following are the 2020 Excellence Award recipients along with excerpts from the nominations.
International Excellence Award
Robin G. Brumfield
Cooperative Extension, Department of Agricultural, Food, and Resource Economics

The top floricultural economist in the world, Robin Brumfield has exhibited sustained research and extension excellence in numerous international settings. She exhibits a high level of ongoing productivity with her newest work always intertwined in some way with her 40-year-old passion for horticulture. While her expertise is sought after by leaders of the industry, her passion is to teach the most disadvantaged producers how to make a profitable living in horticulture. Robin's Greenhouse Cost Accounting Program and marketing and business management chapters for the best-selling textbook, Greenhouse Operations and Management by Dr. Paul V. Nelson, are used by leaders in the industry worldwide. Her repeatedly demonstrated expertise is to take complex topics and make them simple so that producers in Turkey, Guyana, and Nicaragua have used her work to become small, successful businesses that provide food security and income for themselves and their families. Her EMWOFA workbooks allow other educators to help even more producers succeed.
Outreach Excellence Award
Chad Ripberger
Cooperative Extension of Mercer County

Chad's efforts have had significant impact upon youth development in Mercer County and the state of New Jersey. In Mercer County, over 100,000 youth have participated in 4-H programming since the beginning of his tenure there. In the area of science education, he has helped bring youth development to several urban areas outside of Mercer County. He has also been a leader in the training of out of school time staff in the area of science. In addition, he has been able to increase the size of the Rutgers Cooperative Extension office of Mercer County staff, to one of the largest in the state. Chad's programs are well designed, evaluated and highly collaborative in nature. He would be the first to admit however, that what has been accomplished, would not have occurred without the help of many others; he consistently nominates his colleagues and collaborators for recognition and awards.
Research Excellence Award
Yair Rosenthal
Department of Marine and Coastal Sciences

Yair Rosenthal is a globally recognized leader focused on exploring and studying the composition/structure of Earth's ocean basins. His overarching research has documented past changes in Earth climate change helping us to understand the mechanisms that underlie the observed changes. He has been a leader in understanding the importance of the ocean in regulating climate, which is now informing society about our impending future on a warming planet. Yair has developed quantitative geochemical proxies providing information of past ocean properties allowing rigorous testing of our understanding of crucial Earth process. He has over 140 publications, many in the highest profile journals including Science, Nature, and Nature Geoscience. Yair has over 10,000 citations and an h-index of 58. He has been named a Fellow of the American Geophysical Union (AGU), an honor bestowed on only 0.1% of the members of AGU.
Staff Excellence Award
Zenash Tassew
Office of Financial and Business Administration

Zenash has been a welcome addition to our SEBS/NJAES team for the past 8 years. During her time here, she has become a valuable team player from the Business Office and has helped in the transitions of restructures, changes in procedures and policies and forward thinking as we weave our way through the daily challenges of our new GL structure. She has joined forces with peers in the hopes of developing and improving department productivity. She has most recently joined forces with the Budget Office in an effort to work through the challenges that face us, in the wake of the departure of the Business Office Director. She is a wonderful example of a team player, while also guiding her staff with poise and diligence.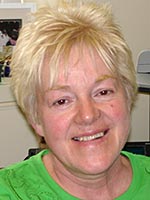 Karen Yudin
Department of Plant Biology

Karen Yudin is a business specialist in the Department of Plant Biology, which is a very large and active research, teaching and outreach unit at SEBS/NJAES. Karen consistently provides a very high level of support to faculty, students and staff in the area of financial management (both pre-and post-award), is the primary coordinator of payroll operations for the Department and four affiliated farms, and provides hands-on support in Foran Hall for building operations and facilities issues. Her dedication to the department is evident in the exemplary service and long hours that she puts in to ensure that accounts are managed timely, purchase requisitions are approved quickly and accurately, and payroll is always entered and approved by deadlines. She frequently meets individually with faculty to provide budget advice. In addition to her duties as a business specialist, Karen has assumed the role of building manager, addressing all Foran Hall building and equipment maintenance issues.
Teaching Excellence Award
Suzanne Sukhdeo
Department of Ecology, Evolution, and Natural Resources

Suzanne Sukhdeo checks all of the criteria for a teaching excellence award. Peers describe her as an "extraordinary teacher" and "outstanding member of the SEBS community" who is "among the best at communicating how learning in college is connected to real-world experience." Through her original ideas, she led the development and implementation of Portals to Academic Study Success for at-risk students, Academic Mentoring for first-generation students, and Exploring Graduate School for upper-level students. She enthusiastically teaches large, lower-level courses, which attract students to the EENR major. She consistently earns above-average scores of more than 4.5 for teaching effectiveness and course quality, and students report learning a great deal despite having little prior interest. She advises honors research students, she contributes to EOF, and she has participated in summer 4-H for years. Suzanne teaches for students and sets a standard for peers!
Team Excellence Award
Rutgers 4-H STEM Ambassador Team
The Rutgers 4-H STEM Ambassador Program was established in 2009 by a team of faculty and staff from multiple SEBS/NJAES departments and units. Since then, this dedicated team has learned how to utilize the strengths and resources of each member to best serve traditionally underserved urban youth throughout the state to enrich their interest and competency in science, technology, and engineering. Using the diverse skills and interests of the team along with their shared commitment to the program's vision and objectives, they have continually refined the STEM Ambassador program over the past 12 years. It is now a nationally recognized model that has been shared through several publications and has been replicated in other states. The team has successfully engaged collaborators from inside and outside the university, across multiple campuses and schools. They are currently designing additional online modules to support the program.
Christine Bean

Sara Campbell

Kendrin Dyitt

Kenneth Faillace
Patricia Irizarry-Barreto

Mary Kunicki

Richard Lathrop

Janice McDonnell
James Nichnadowicz

Chad Ripberger

Sharice Richardson

Serafina Smith
Marissa Staffen

Alesha Vega
SEBS Online Mentors and Support Team
In March 2020, the COVID-19 crisis forced Rutgers University to shift spring 2020 courses, in a mere instant, to remote instruction. During the summer of 2020, Rutgers engaged in an intense effort of planning for a fall semester of remote instruction. Each school was tasked with providing technological and pedagogical resources to its faculty for conversion of existing in-person courses to high-quality remote instruction. A team of faculty members was quickly mobilized, called the Online Mentoring Team. They offered individual instruction to SEBS faculty to help them choose the most appropriate technologies, to help them use the technologies, to help with remote instruction best practices, and to aid in design of remote instruction classes. The team also developed a CANVAS page called the SEBS Online Teaching Toolkit, which is a compendium of the resources at Rutgers to help further with technological and pedagogical course development.
John Allen

Sharron Crane

Ramaydalis Keddis

Marc Knowlton
Tom Leustek

Karl Lindauer

Robert Muldowney

Kyle Murphy
Craig Phelps

Ines Rauschenbach

Silke Severmann

Gerben Zylstra