June 7, 2022
Dear SEBS and NJAES community,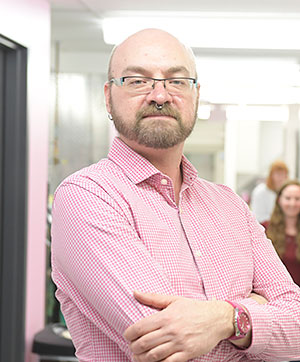 I am pleased to announce the appointment of Troy A. Roepke, Associate Professor in the Department of Animal Sciences, as the very first Associate Dean of Diversity, Equity, and Inclusion, effective July 1, 2022.
Troy will lead the new SEBS/NJAES Office of Diversity, Equity, and Inclusion. This office is committed to supporting diversity, equity, and inclusion as core values in our work, interactions, and planning. Crucial to our ability to work as a community of learning and work is respect for each other, a shared commitment to a culture of belonging, and support for every individual's dignity.
As a member of the SEBS/NJAES administrative leadership team, Troy will oversee the implementation of the SEBS Diversity Action Plan recently approved by the SEBS Faculty, will continue to act as SEBS liaison with Rutgers DICE as the Equity Advisor, and will assist and advise academic and administrative units in SEBS/NJAES on best practices for diversity, equity, inclusion, and belonging. Troy will also keep us on track in the development of protocols, metrics, and data tracking mechanisms and advise the Executive Dean and the Executive Leadership Team on DEI matters.
Troy joined the SEBS faculty in 2011 after spending six years at Oregon Health & Science University (OHSU) as a postdoctoral fellow in neuroendocrinology. Troy earned their bachelor's degree and master's degree in marine science/biology from Long Island University – Southampton College and San Francisco State University, respectively. Troy then completed their education, earning a Ph.D. in Physiology/Reproductive Biology at the University of California, Davis in 2005 where they studied marine invertebrate reproduction.
Troy's primary research combines their training and expertise gained from UC-Davis and at OHSU by examining the interactions of gonadal steroids (estrogens), diets, and endocrine disruptors on the physiological and neurological processes controlled by the hypothalamus, including reproduction, energy homeostasis, stress, and mood. Troy was the recipient of a K99/R00 Pathways to Independence Award from the National Institute of Diabetes and Digestive and Kidney Diseases and has been funded by the National Institute of Environmental Health Sciences to study flame retardants. They are currently PI of an R01 from the National Institute of Mental Health to study the sex differences in the response to chronic stress in mice and the role of estrogen signaling. Troy has authored or co-authored fifty publications over a wide range of fields including endocrine disruption, the hypothalamic control of reproduction, estrogen signaling, potassium channel activity in the context of reproduction, energy homeostasis, the stress response, and mood.
During the decade that Troy has been a SEBS faculty, they have been active member of several graduate programs, including currently acting as the Graduate Program Director for Endocrinology and Animal Biosciences, and institutes like the New Jersey Institute for Food, Nutrition, and Health, the Rutgers Brain Institute, and the Environmental and Occupational Health Sciences Institute.
Troy's has long been an advocate for students and trainees from marginalized communities, especially for students who identify as a member of the LGBTQIA2S+ community. Troy's lab, the Pink Lab, has long been known as a safe and supportive environment for queer students. Troy also is active in many scientific societies advocating for inclusive practices for trans and non-binary people in STEM. Troy is currently the Vice-President for the Out Toxicologist and Allies Special Interest Group of the Society of Toxicology.
Please join me in welcoming Troy to this new role. While Troy doesn't officially start until July 1, they are already very active in supporting the work to assure our community is diverse, inclusive, and welcoming.
Thank you and enjoy this beautiful day!
Sincerely,
Laura J. Lawson
Interim Executive Dean of Agriculture and Natural Resources
Interim Executive Dean, School of Environmental and Biological Sciences
Interim Executive Director, New Jersey Agricultural Experiment Station